Dear Members and Members in waiting,
Club Delivers Second Mini-Bus
Today felt like a breath of fresh air as we were out and about as a committee handing over a specialised mini-bus, bought with club funds to Young Epilepsy and St Piers School in Limpsfield.   This was a rearranged handover from before the pandemic and it was a useful reminder of why the 100 Club's charitable endeavours are so worthwhile.  So many charities are struggling for funds and it was interesting to hear the principal, Richard, talk about the difficulties they continue to face with tightening government purse strings.  I would like to take this opportunity to thank the membership for their generosity, the money we raise is truly going towards good causes and making a real difference.  Thank you.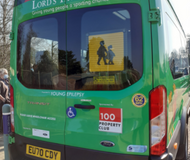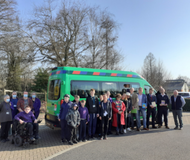 The March Hare
The club hosted its first lunch of the year in February with over 40 attendees at the March Hare in Guildford.  It was a great success and guest Speaker Kevin Webber received a standing ovation for his talk on battling cancer whilst completing extreme marathons around the globe.  Thank you to Jo Farr and Moore Barlow for sponsoring the event and helping to raise over £500 for Prostrate Cancer.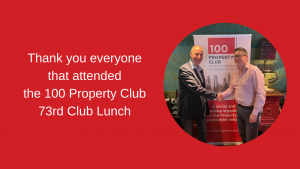 Save the dates
The diary is looking very full!  Please click on the following links to add the events to your diaries.
22 Bishopsgate tour and drinks hosted by AXA
Sold Out
Save the date Thu Mar 24 2022
Sixes Fitzrovia Drinks and Fun Cricket!
Watch out for the invite
Save the date Wed Apr 27 2022
Golf Day Effingham
Sold out
Thu Apr 28 2022
74th Club Lunch Epsom RAC
Watch out for the invite
Save the date Tue May 24 2022
75th Club Lunch & AGM London
Watch out for the invite
June TBC
Twenty20 Blast Cricket Surrey v Somerset
Watch out for the invite
Save the date Tue Jun 21 2022
Golf, Betchworth Park Golf Club
Watch out for the invite
Save the date Thu Jun 30 2022
Sailing Day – Port Hamble
Watch out for the invite
September TBC
Golf Day at the RAC Club
Watch out for the invite
Save the date Fri Sep 23 2022
76th Club Lunch
Watch out for the invite
October TBC
50th Anniversary Christmas Extravaganza @ London Connaught Rooms
Watch out for the invite
Save the date Wed Dec 7 2022
New Members
Since my last note we have welcomed the following to the membership.
Promoted to Full Member
Marc Cowley@ Clipstone
Ryan Tackley @ Rapid Office
Matt Girling @ Cromwell Property Group
New Members in Waiting
Richard Awbery @ Farm Street
Mark Bruce-Lockhart @ Philips Lockhart Starr
James Caddick @ Lewis Ellis Llp
Tom Cole @ Salmon Property
James Forrester @ Tudor Real Estate
Eddie Foulkes @ Colliers International
Matt Glazer @ GLPG
Tom Kerins @ Finn & Co
Rachel Lane @ Group Rapport
Freddie Little @ Featherstone
Theo Quarendon @Kimmre
Harry Rands @ Fletcher King (Moving to Kindale)
Harvey Veitch @ Bray Fox Smith
Jeremy Waterworth @ Mellersh and Harding
David Hughes @ Move To Property Publications
Paul Adams @ Pulse Consult
Sush Gupta @ Bizspace
Ailsa MacLean @ Dutton Gregory
Dieter Kerschbaumer @ Total Project Integration
Lisa Hammond @ Gravity Design Associates
Ian Craig @ Stevens & Bolton
Dan Grant @ Stonehill Partners
I look forward to seeing as many of you as possible at the upcoming events.
Tim