"London streets are paved with gold" is a saying that came from the 19th century story Dick Whittington and His Cat, loosely based on the 14th century Lord Mayor of London, Richard Whittington. The saying, which expresses the idea of a "land of opportunity", is partly ironic, since Dick Whittington found when he went to London that the streets were in fact grimy and poverty stricken. The second irony was that with persistence, belief, and luck, Whittington was able to become successful.[1]
In the spirit of Dick Whittington, the 14th century Lord Mayor of London, members of The 100 Property Club, embarked upon a walking tour of the 'Streets of London' on 16th September to see for themselves whether "London streets are paved with gold"!
Led by Clywd Roberts, a City of London Guide, par excellence, and former Development Director for BAM Developments, we, like Dick Whittington's cat, followed him hither and thither as he expurged fascinating details of the City landscape.
Some of the gems of this tour included firstly, The Vintners Garden, a small enclave just off Cannon Street, devoted to the original vintners and sponsored by the Portuguese wine industry, with tumbling vines of grapes, we all got a little thirsty for some of that nectar, before moving through St Paul's Churchyard to ponder the beginnings of the RICS approach to investment property, born here at St Pauls, and then swiftly onto Paternoster Square to Christ Church Greyfriars. A Christopher Wren church, heavily damaged in the Blitz. The nave was turned into a garden, and what a stunner it is.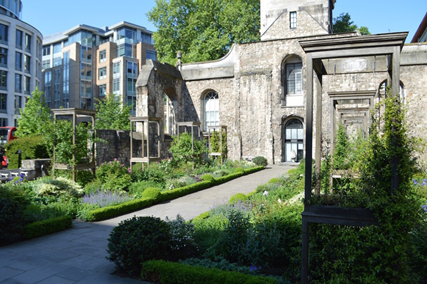 The gardens were designed to reflect and celebrate the Church that stood here previously with the flower beds representing the congregation. The offering within being The City of London rose – a beautiful yellow colour and sited nearer to the front of the 'pews', offering up her sweet scent. Climbers were arranged around several vertical structures or pergolas, representing the church pillars, and all providing a calm place in which to sit and reflect.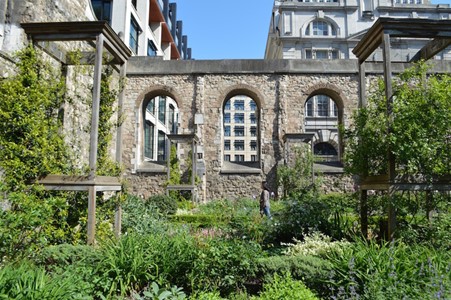 And then, a quick shimmy across the road took us to Postman's Park so called because the park backs onto the previous headquarters of the Royal Mail. Those commercial agents amongst us pondering on the price per square ft of office space in Victorian times versus today's City occupancy costs – no doubt!!!
Within a tranquil area of the park, there stands "The Memorial to Heroic Self Sacrifice, a remarkable structure on the walls of which are a series of ceramic tiles on which are remembered long ago acts of heroic self-sacrifice by ordinary men, women and children.
Acting on impulse, and with barely a thought for their own well-being, the humble, everyday heroes, went to the aid of others who were in peril and, in so doing, lost their own lives. The latest, and last dated only 2007.
We took a few moments to reflect on their bravery …
before moving onto the next part of our tour, a bridgelink joining several buildings, and where from its stairwell, we could see 5 or 6 of London's leading architectural structures. A short quiz, won by yours truly, on the architects' responsible for the design of these magnificent buildings, followed by the final piece of our tour, which was to go underground, within a car park, to stand in front of the last remaining piece of the old London Wall. Proud in its decay, sited in the most obscure location, and yet a monument (literally) to old Londonium, and the growth of our amazing City.
London's streets may not literally be 'paved with gold', but surely, we can all be thankful for the opportunities that we have had, working within its incredible and varied architecture.
We then snuck down an alley or two, to find gold of a different kind in the shape of a nice cold pint.
Thanks to Matthew Brown of Lewis Ellis for organising such a splendid event, and of course to the excellent City of London guide, Clwyd Roberts, for his knowledge and passion for our great capital City.